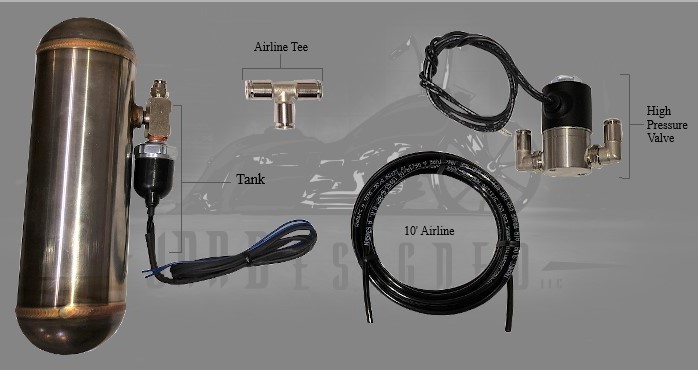 Add-on Fast Up Rear Air Tank kits
PART DETAILS
Add-on Fast Up Rear Air Tank kit
Designed to fit the stock configuration with dual exhaust, this kit includes all the components required to convert any of our Base Rear Air Rides to a tank kit either at the time of original purchase or as an add-on later. In this kit is a high pressure fill solenoid, tank pressure switch, air line, all the required push to connect fittings, mounting hardware as required, and a choice of year specific mount and tank.
When ordering a complete kit as an add on to an existing air ride you must correctly select current air line size, and select your current compressor (no compressor is included) to get a properly set up kit.
If ordered at the same as a JNR Designed Base Rear air ride, we recommend selecting the 95c or upgrading to the 100c option, and select "JNR Prefered" airline option.
Because the tank and 100c both require right side mounting on the 2009 thru 2013 model, for these models a 95c compressor is required.  2009 thru 2013 Ultras, Electras, Road Kings, require the removal of the twin horizontal bag guards and their bracket on the saddle bag support tube.  
**Because the 97c/98c's are not a good choice for a high pressure tank systems, we will no longer be offering a version for them**
Click here for a wiring diagram
Click here for a plumbing diagram
Click here for plumbing diagram when tank and air ride are ordered as a combo
FITMENT
All Harley Touring Models when twin saddle bag guards are not used (not available for the 97/98 compressors)