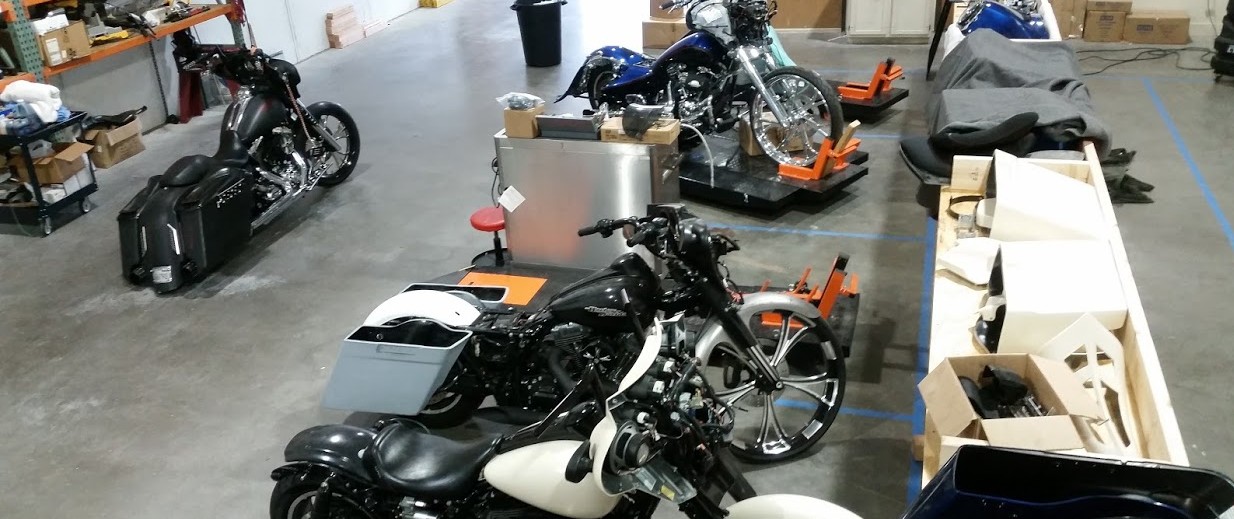 Dealers and Installers
We do not solicit dealers and/or installers
Click here to fill out our dealer app
Bourne Wrenching and Customs

600 Chickasaw Dr. Montgomery Tx 77316
Contact: Brian Bourne
bournewrenching@gmail.com
Cartel Baggers Ft Lauderdale

500 East Sunrise Blvd
Contact: Shannon Fleischman
We customize and service all makes and models. We are a dealer too, so we buy and sell.
Custom Lighting Efx, LLC

1170 N US HWY 1
Ormond Beach, Florida 32174
Contacts: Ken Gardner, Jamie Gardner
We are all about safety. Our primary business is LED Lighting and motorcycle accessories. We are full service in our shop, and travel to many of the major bike shows around the country.
Cycle World of Athens

4225 Atlanta Highway
Athens, GA 30606
Contact: Shelly Embrick
D and N cycles

4000 Glady Road
Lynchburg Ohio 45142
Denny Reed
DC Automotive, ATV, Motorcycle Parts and Service

113 Oxford Street
Hanover Township, Pa 18706
Contact: Daniel Cronan
Custom one off builds, all motorcycle and ATV needs
Dead End Cycles LLC

19850 CROMLEY RD
DEFIANCE
We are a full service repair shop for Harley Davidson motorcycles. We sell used Harley Davidson motorcycles as well as parts and accessories. We have a Dyno machine and offer a variety of option to customize the customer's motorcycle.
Eastern Performance Cycles

1318 Defense Hwy
Gambrill, MD 21054
Contact: Brian
410-451-5181
Internet, retail, service full shop, same location for over 20 years, we service, build, repair, and customize all Harley Davidson models
HELL BENT CUSTOM CYCLES

366 MILAN HWY
TRENTON, TN 38382
Contact: JERE BOOHER
CUSTOM WORK, FULL SERVICE, REPAIR
Hellion Custom Cycles, Inc.

725 N U.S. Route 15
DILLSBURG, Pa 17019
Contact: William Raber
We are a full service shop specializing in Harley Davidson, Harley based customs, Victory and Indians since 2005 Mild to wild, Stock to Sick we do it!!!!
House of Payne cycle works

House of Payne cycle works
Spindale, NC 28160
Contact: David Payne
Full service shop and parts retail, engine builds and Dyno tuning. Full custom bike builds
IMPULSE KUSTOMS CYCLES Inc

5920 SW 199 Ave
Pembroke Pines FL 33332
Contact: Robert Martinez
Impulse Kustoms Cycles is a family owned and operated business since 2010. Started with the Bagger craze and have expanded to a full service shop, offering parts, accessories, service, repair, custom Engine and Transmission work, Custom Frames, fenders, oil and fuel tanks, welding, restorations, custom wire harnesses and powder coating. Mostly Harley motorcycles but are open to all makes and models
JBA CUSTOM CYCLES

4020 CLEVELAND AVE. UNIT 1A
Fort Myers, FL 33901
Contact: James Bonner
mail@jbacustoms.com
WE OFFER SERVICE AND REPAIR TO ALL MAJOR MOTORCYCLE BRANDS AS WELL AS FULL CUSTOM WORK. WE HAVE A MACHINE AND FABRICATION SECTION HERE. WE ALSO HAVE A FULL DYNO SET UP. FULL TUNING AND ECU FLASHING IS AVAILABLE.
JL Enterprises

Bristol WI 53104
Contact: James Leonard
Installer of JNR Air Rides
MDJ Ventures

977 Eyerly Ln NE
Palm Bay, Fl 32905
Contact: Mike Jones
Complete services, accessory installs, Engine rebuilds
MID COAST CONCEPTS, LLC

N34W23199 CIRCLE RIDGE RD. UNIT 107
PEWAUKEE, WI 53072
Contact: ILYA "BULL" LEVKOV
Mid Coast Concepts is strictly a custom bike building service. We do not do retail or on-line parts sales. We build exclusively on the H-D platform, mostly baggers but some softails.
Outkast Kustom Cycles

3970 Park Ave Suite I
Hot Springs National Park, Ar 71901
Contact: Misty Wilson
outkastkustomcycles@gmail.com
501-781-3719
Repair and services plus parts for all makes and models of powersports vehicles.
Sams' Custom Cycles

Lexington KY 40505
859-536-5065
Complete custom builds, routine service, pro audio installs, paint, air ride, big wheels, rake kits, one off custom tourpack, led light kits, seat upholstery, bag liners, handlebars, powder coating
Street Bosses Cycle

19 Earnhart Ln
Scott Ohms
streetbossescycle@gmail.com
We are a full service cycle shop doing repairs, service and performance/Custom work
Strokers

1645 W Hwy 140

Merced 

CA

 

95341

Contact: Tim Weaver
Harley only repair and sales shop
Tulsa Truck Works

9300 Broken Arrow Expressway
Tulsa Ok 74145
Contact: Pete Broderick
Twisted Grip Kustomz

2701 n kaufman
Ennis TX 75119
Contact: Jason napps
From air in your tires to full builds we do it all
Underground Baggers

Brockton, MA 02301
richnatale@msn.com
Zeke's Place Motorcycle Repair LLC

33 Chestnut Ln
Belleville, PA 17004
Contact: Brian Buchanan
We do customizing, repairs, and install air rides