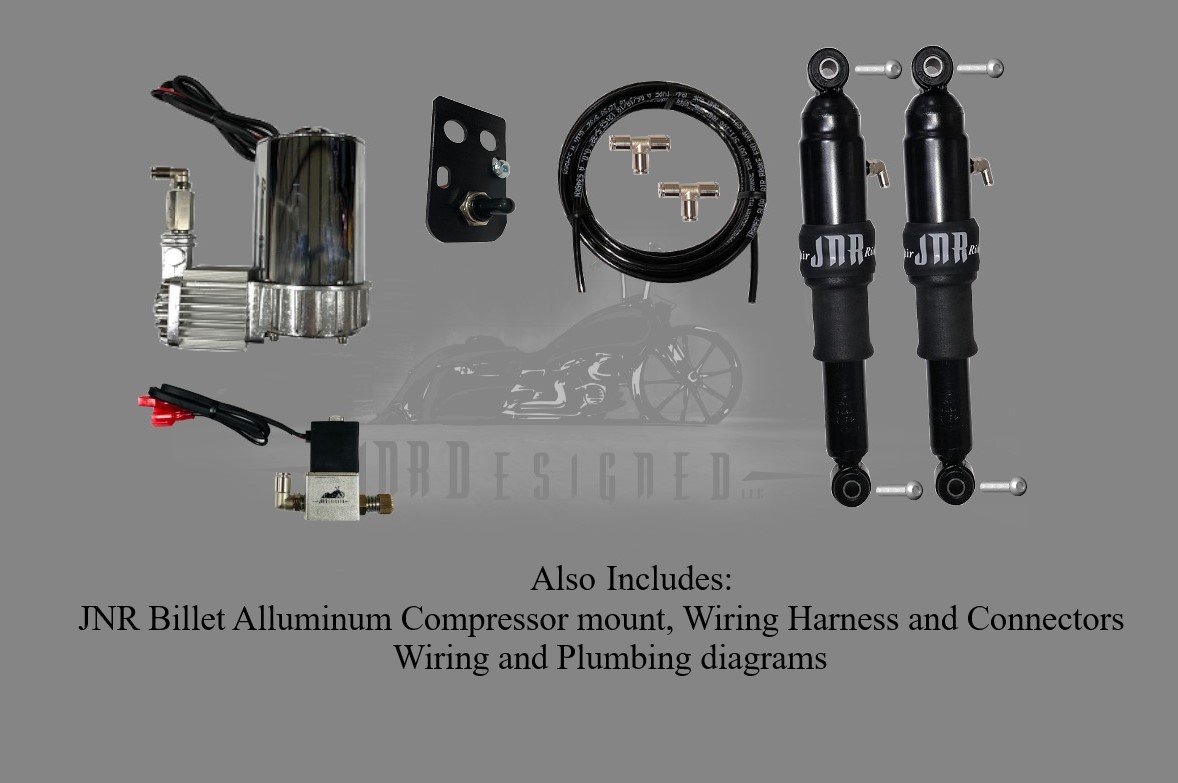 Base Rear Air Ride Harley Touring Models Year Specific
PART DETAILS
Base Rear Air Ride Harley Touring Models Year Specific
This is our best selling kit that everyone is talking about!
Recommended for all Harley Davidson Touring Models, stock to full builds, Streetglides, Roadglides, Roadkings, and Ultras.
This kit is custom fit to the year of the Harley Touring Model based on the compressor mount selected, it is pre-wired, with all threaded fittings pre-installed and tested.  This kit allows the average person to do a super clean install, that anyone can be proud of, and do it with ease…With the selection of the exclusive JNR Touring Shocks you will get the most comfortable, forgiving ride available, better then any kit in this price range, and even better those that cost hundreds more!  It is backed by a 1 year warranty for all components, and a lifetime warranty on the shocks and compressor mount.
Another JNR exclusive, our all new "Ride Height Repeater" (RHR)  Add this to your rear air ride and you will have a system that will be in the comfort zone every time you air up, whether you ride solo, two up, with or without your bags and tour pack loaded.
Add on a second compressor and air up time is cut in half, and the load on the compressors is also cut in half, see our add on compressor kits.
Included in this kit
1 pair of air shocks, with push to connects air line fittings, 1/2″ bushings, quality checked, pressure tested, with mounting bolts included.
Choose between three compressors, 100c (preferred for all kits), 95c,(recomended for tank kits, and non tank kits when the riding weight is above average) and the 98c (works great for a standard kit with average or below riding weight, not recommended for a tank kit) , and JNR billet aluminum cnc machined compressor mounts to fit your specific bike that makes mounting as simple and safe as possible.
1 – Dump valve (leak tested)
1 – Dump speed control (installed)
10′ –  air line
2 –  tee fittings
1 –  push to connect dump valve connection (installed and leak tested)
1 – push to connect x 1/8″ npt compressor connection (installed and leak tested)
1 – Pre-made wiring harness, with wiring diagram
1 – 40 amp relay (incorporated in wiring harness)
1 – Weather resistant fuse holder (incorporated in wiring harness)
1 – Momentary toggle switch with weatherproof cover  (incorporated in wiring harness)
1 – Firewall mounting plate for toggle switch
1 – Plumbing diagram
1 – Free 2 to 3 day shipping to continental US
Wonder how easy it is to install? Here is a video overview of an install
***Professional installation available in many areas for an additional labor charge, call us at 918-893-4684 to find the installer nearest you, to schedule your install!***