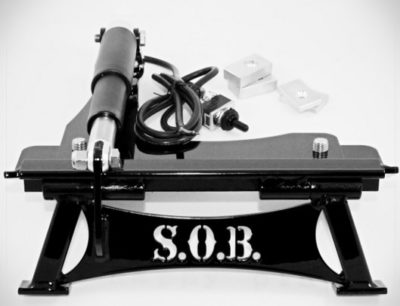 S.O.B. Electric Center Stands
PART DETAILS
ELECTRIC CENTER STAND
S.O.B. Electric Center Stands
Fits models from 2000 to 2019 baggers…Road King ..Road Glide…Street Glide.. Electra glide…and Custom Baggers.   Rear air ride on bike needed for this application. If  your bike sits higher then 3 1/4" at its lowest point you may need to alter your crossover pipe. Actuators have steel guts inside not plastic.  S.O.B. stands DO fit bikes with stock crossover exhaust and some with aftermarket exhaust.
***Any time a center stand is used we highly recommend that a center stand safety kit be used also.  If a fill valve should leak air into your shocks or forks while sitting on the center stand your bike will lift up and fall over, with our safety kit in use the leak would simply evacuate into the atmosphere***
SOB center stands drop ship FedEx, when purchased with an air ride kit they will be shipped separately, and are subject to different lead times.
FITMENT
Some exhaust's crossover may require modification, and a re configuring of the clamps